About Kings County Cultural Map
The goal of the Kings County Cultural Mapping project is to identify cultural assets in Kings County and display both tangible resources (resources that have a physical presence) and intangible resources (the stories and traditions that contribute to defining a region's unique identity and sense of place), on an accessible and interactive map to be used by the community.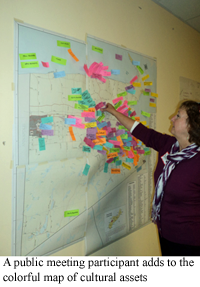 Culture in Kings County plays an important role in defining and enhancing our quality of life as well as developing economic sustainability in the region. The cultural map offers a 'one-stop-shop' for a full range of local cultural assets in every corner of the County. While the map gives the physical lay of cultural assets in Kings County, it also makes visible 'intangible' cultural assets such as stories and histories. These intangibles are captured through a multimedia process of digital storytelling, whereby first-person narratives of local residents have been recorded and embedded into the map. These stories focus on the impact of local arts practices and cultural activities, and look at the role local residents play in creating a vibrant cultural milieu.
The Cultural Mapping project came out of a conversation with a number of cultural stakeholders in the community and the Kings Regional Development Agency. Discussions focused on the state of the cultural sector in Kings County and the available infrastructural supports that help to increase cultural citizenship and participation. The creation of a cultural map was identified as providing the foundation to future cultural organizing, planning, and development.
For more information on the Kings County Cultural Mapping project, please visit the
project's blog
.